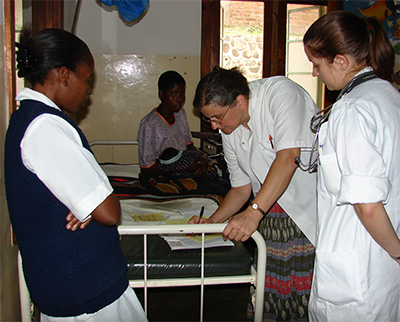 The churches in PWNC have made a significant impact on health care and children's education in Nkhoma, Malawi, one of the poorest countries in Africa. We have a ten-year relationship with the hospital in Nkhoma and its 9 satellite rural Health Clinics, where about five full-time doctors are the only doctors for 350,000 people. We began that relationship when the presbytery decided to support 80% of a missionary's salary. Around fifty churches support Dr. Barbara Nagy, a member of the Morganton Presbyterian Church and a pediatric doctor, who works at Nkhoma Hospital. Since Barbara has been there, she has reduced the infant mortality rate by 75% and has developed improved medical processes that can be used at other hospitals in Malawi and the third world. Recently, her attention has shifted to work in public health and preventive care, in addition to her continued help on the pediatric ward at the hospital. For ten years now, we have had one to two mission trips a year to support Barbara, the hospital and the Ebenezer School.  
A focus of our mission teams has been working to improve the nine rural health clinics to save lives and do preventive care. Currently, many of the clinics lack water and electricity and adequate housing for the medical staff. They need structural and equipment improvements. So, a major goal is to get the clinics in working condition to provide preventive care, supply critical medicine for illness, be quality birthing centers and expand the reach of medical services over a vast geography. In addition, because of the economic situation, providing basic medicine is always needed at the hospital and the clinics.  
The Ebenezer School was started by this presbytery at the request of the hospital, through a grant from First Presbyterian of Gastonia. Ebenezer School now has educational programs for three-year-olds (pre-kindergarten) through 6th grade. The hospital had been losing staff due to a lack of quality educational opportunities for children. The typical classroom consisted of about 100 children with a single book for the teacher. Ebenezer School is now one of the outstanding schools for local Malawians. It is now a plus in recruiting medical staff. Churches in PWNC have given generously to the hospital and the school.  
Description of Project:
Medical: Upgrade the nine rural Health Clinics associated with the Nkhoma Hospital, permitting each to provide a full range of basic services. Needs vary at each clinic. The objective is for each to have access to clean water and reliable electricity (solar and traditional), to provide medicines and supplies, and to assure staff housing with water, electricity, and routine maintenance. Additionally, provide one or more mobile health units to reach the very remote and the home bound. Also, a major effort is to establish a $250,000 fund for needed medicine. This fund will assist with medication costs at Nkhoma Hospital and the clinics for the next 15 years.  
Education: Create a $250,000 endowment fund for the Ebenezer Institute, a school serving children of hospital personnel and area residents. The goal is to provide a reliable revenue stream for annual school operations and improvements. This endowment will continue as an established fund that can be increased with any charitable gifts.  
Essential Goals & Planned Expenditures
Health Clinic: Power and water upgrades. Maintenance
$147,000
Housing for Health Clinics
$160,000
Mobile Health unit purchase: Five-year operations and repair
$180,000
Research/Advisability/Accountability
(PWNC people/travel)
$13,000
Ebenezer Institute Endowment Fund
$250,000
Medicine for Nkhoma hospital and clinics 
$250,000
Total Essential Goal
$1,000,000
Dream Goal Planned Expenditures
| | |
| --- | --- |
| Maintenance fund for Clinic buildings and infrastructure | $35,000 |
| Second Mobile Health unit, purchase, five-year operations/repair | $180,000 |
| Additional opportunity equipment and supplies for Clinics | $35,000 |
| Total Dream Goal  | $250,000 |
Rationales and Impact for Project:
Recently, while in the U.S., our missionary Doctor Barbara Nagy earned a Master's degree in Public Health. Nkhoma Hospital desires to improve access to care – basic and preventive – in a broad rural area where nine Health Clinics operate and a mobile health unit reaches into other remote areas. Improving access to basic care helps remove the obstacle of distance to Nkhoma Hospital for services such as prenatal care, immunizations, or treatment for malaria and assures that more people get care. Clinic facilities that are adequately staffed and supplied will attract health professionals and adequate housing will retain them.  
A medicine fund will help keep adequate supplies of much needed medicine at the Hospital and clinics. The hospital struggles with funding as many patients earn wages of less than one dollar a day. The fee for a caesarian birth is less than three dollars. A medicine fund will be a tremendous help for the next 15 years in balancing costs with a patient's ability to pay for medical care.  
Ebenezer Institute was established by PWNC to offer health professionals a sound option for the education of their children. Annual income from a $250,000 endowment would allow school administrators to better plan growth and maintenance for school buildings and staff housing – essential capital that is difficult to accumulate solely through school tuition and fees.
Essential Goal Sustainability and Accountability:
Dr. Nagy's new public health responsibilities will emphasize the operations and resourcing of the rural clinics. Oversight for these medical ministries and the general operation of the Hospital is provided by Dr. Nagy, Dr. Reynier Ter haar (Chief Medical Officer of Nkhoma Hospital), and Dr. David Morton (CFO of Nkhoma Hospital). The Clinic work will be coordinated with the annual mission teams from PWNC and by Tom Kilgore, Teresa Locke, and Tommy Burleson, who will monitor progress and expenses. We have established a good system of accountability in our work with the existing clinics and hospital.  
The Presbytery has also been working with the School for a number of years. We have had accountability on the building of several classrooms and a library and the purchase of books, supplies, etc. We have worked with Willeke Ter haar and the school administrators. Mission Teams have worked with the school since its establishment. We will continue to monitor the plans and expenses carefully. The funds will be controlled by the PWNC.